HMMM… Should Sting get to have a WWE World Title reign? (w/Reader Poll)
In a few weeks, after a long pro wrestling career dating back to the 1980s, Sting gets his first WWE World Title opportunity. I think most people assume Sting won't win the WWE Title, despite Seth Rollins having to defend both of his titles in one night. But can we rule it out? Should we rule it out? Is it a good idea or a bad? I suppose it comes down to Vince McMahon's feelings on Sting and whether WWE thinks a Sting title reign could draw some ratings and Network/PPV buys.
WWE is going to be looking to draw attention to Raw once Monday Night Football starts. They might rationalize that Sting has name value with lapsed fans, and if word spread via social media and word-of-mouth (people do still talk to each other, right?), maybe a Sting title reign would draw some Monday Night Raw viewers back to the show to see how it plays out.  It doesn't mean Sting would need to have a long title reign. Seth getting a rematch at Hell in a Cell in October would be a hook for that event.
Another option is for Sting to capture the WWE World Title, but hold it only for three minutes because Sheamus interrupts the celebration with his MITB briefcase, and then Sheamus beats Sting, cutting his reign super-short. That way, WWE doesn't have to (a) ask Sting to work house shows for a month defending the title; (b) have the World Title go dormant until Sting's next title defense at Hell in a Cell. Then Hell in a Cell can feature Sting's rematch against Sheamus, with Sheamus likely winning. This scenario only works if Sting is looking to work more than one match right now. If Vince McMahon is at all invested in boosting Sheamus, a program with Sting isn't a bad idea to give him someone fresh to play off of and work with. It also gives Sting at least one WWE Title reign, no matter how short. If he beats Seth straight up, it'll be a legit "title win," even if cut short.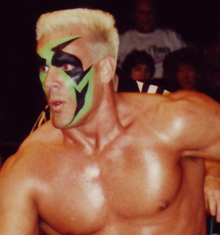 I wasn't overly impressed with Sting's promo on Monday, but it's par for the course with him. Because WWE managed to retain the mediocre (at best) 2.7 rating the week after Sting's surprise return, despite bracing for a drop in ratings consider they drew a 2.7 the week before for the show right after Summerslam, maybe Vince McMahon is thinking there is some ratings interest in Sting.
I don't think Sting "deserves" a WWE Title run in the sense that WWE should make that decision just to give him that added title on his Wikipedia title history listing or Hall of Fame induction introduction. I do think Sting is a short-term option to give WWE something special and different from the usual roster as they battle Monday Night Football in the fall and winter before things heat up after the holidays with WrestleMania season.
What do you think? Would you like to see Sting get a WWE World Title reign? Vote in the poll below, and I'll talk about the results in a future blog entry.
Later today, check out ex-WWE writer Matt McCarthy joining me LIVE on the PWTorch Livecast: Interview Thursday to talk about Sting's return, plus the first weekend of PWG's Battle of Los Angeles (there's no bigger PWG fan than McCarthy), and much more, including your live calls and email questions. Email pwtorchlivecast@gmail.com to ask questions of suggest topics for today's show.
Oh, one more thing… If you haven't yet, check out my conversation with "Stone Cold" Steve Austin that dropped today at PodcastOne. It's 1:40 minutes long.
(If you shop at AMAZON, support us by always starting at http://www.pwtorch.com/amazon. When you click on the Amazon link or graphic, that takes you to Amazon's home page. From there, shop as usual, but we get a commission for sending you there. Thank you so much.)
[yop_poll id="1″]