EDITORIAL: WWE's jarring portrayal of Bellas as both awful people and wonderful people is a poignant example of what's wrong with their agenda
Is it wrong to root for an awful rating for Monday Night Raw? Whatever can happen to invalidate WWE's vision for last night's program, the better. I recorded a 60 minute rant-filled Wade Keller Hotline last night for VIP members detailing one frustration after another with the WWE philosophy on display last night. I'll talk about one in particular here.
WWE went to the trouble to portray Nikki and Brie Bella as heels for the way they gloated about the cheap way Nikki managed to break A.J. Lee's record as a longest-running Divas Champion ever. Then a couple segments later, you couldn't find two more caring, generous, nice people than the Bella Twins in the video package they did on Connor's Cure.
I'm fine with corporations doing charity work, and to a certain extent utilizing their ostensibly magnanimous acts of kindness to further their brand image building. If big corporations send some of the profits that would instead go to corporate bonuses to people in need, great. WWE can, within the realm of good taste (as in three or four times a year, with some sense that they're blushing at the very public acknowledgment of their good deeds), promote their charity work without it coming across as unseemly.
But why oh why, of ev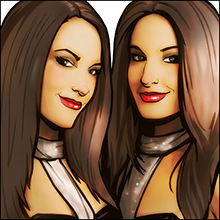 eryone on the WWE roster, would they choose to focus on the Bella Twins, including a quote from them talking about how much they love putting smiles on the faces of sick children?
First of all, if WWE is doing its job, those kids should be rejecting the Bella Twins showing up to hang with them. They should recoil at WWE sending these awful human beings and fear that they're there for some ulterior motive. But WWE doesn't do its job well when it comes to creating some sense of authenticity to the way their wrestlers are portrayed on TV.
Still, even if the kids smiled at the Bellas showing up, why would WWE publicize that? I know the answer – because the Bellas are in tight with very important people in WWE, and it sends the message that the Bellas are among the top on-air characters and are "faces of the brand." That "very important corporate message," though, counteracts the very important ticket-selling message, which is that fans should be emotionally invested in wanting to see the Bellas lose, the same way you should be invested if you're a Chicago Bears fan in seeing the Green Bay Packers lose.
WWE as a brand portrays itself, in a clunky counter-productive fashion, as a "home sports team." Why else would Triple H brag last night about how all of this new young talent is going to take WWE to new heights? Why would a viewer care about WWE going to new heights if WWE didn't market their brand like a home sports team? Instead, they should be promoting individual wrestlers, but as Vince McMahon has found out over the decades, wrestlers leave, get hurt, get arrested, and die, but the WWE brand is always there. So there's been a corporate shift away from promoting Superstars and instead promoting a brand called WWE. It's Stephanie's professional mission; in fact, it's her corporate title.
I don't think people get excited about brands as the primary motivation for spending time investing in a product. Sure, people like Target or Macys, but only because of the pleasing shopping experience and quality of merchandise and fair pricing and strong customer service. Nobody's "rooting for Target" if the products they sell and the customer service they provide is lacking.
WWE has lost sight of that. They have put "brand building" ahead of "star making," and the lip service last night was at its worst and most counter-productive. Other than John Cena, Mr. WWE, they don't have anyone that they push anywhere near the level of the WWE letters and brand itself (although now the Bellas are entering that realm). But without stars fans are invested in, without wrestlers fans are rooting for or rooting against with passion, WWE's brand-building is a pointless effort.
WWE's top brass are so wrapped up in the rat race that is "Wall Street expectations" that they've lost sight of what makes WWE fans spend money and watch three hours of programming: Putting the wrestlers and wrestling matches ahead of everything, and having that be what makes people loyal to the WWE brand.
Last night, WWE made the brand the priority, and in the process of trying to get fans to love and appreciate the goodwill of the WWE brand's corporate charity work, they undercut the very foundation of the reason for WWE existing in the first place – building up heel wrestlers that fans pay to watch in anticipation of the joy of seeing them lose.
Whatever effort was made to get Nikki over as a heel and make fans excited to see Charlotte beat her on Sunday at Night of Champions was totally wiped away with WWE shoving the "alternate universe" version of the Bellas in everyone's faces. They put their political desire to establish a pecking order among the women – the Bellas are the faces of the Divas Division no matter what happened at NXT Takeover – ahead of telling an effective, immersive story fans could believe in.
WWE can send the Bellas to the charitable event. Just edit out any images of them when it airs on TV, and instead focus on babyfaces whose charity work coincides with the image projected on TV. Yes, in 2015, fans know wrestlers often portray characters that don't line up with who they are as real people, but WWE doesn't seem to understand how much easier it is to draw money and get fans invested in the product if they can do everything in their power to convince fans that what they see on TV is very close to reality. They should work hard to make us believe, not needlessly go out of their way to let us know how inauthentic the characters we see on TV are.
Actual reality TV producers get this. If someone is edited strategically in a reality TV series to be the bad guy, that same production company – while the season is airing – doesn't go out of its way to counter that image with splashy video packages of how wonderful the villain on the show is in "real life" compared to what you see on this so-called "reality show." I don't get how WWE doesn't understand this.
WWE's putting of their corporate brand-building agenda ahead of telling effective immersive stories between heroes and villains that fans can believe in is one of the reasons they are struggling right now with the lowest ratings they've experienced since the early days of the Monday Night War.
NOTE: If you want to listen to my 60 minute Daily Wade Keller Hotline from last night going into a dozen or more other rants about other misguided aspects of Raw last night, posted exclusively for VIP members, sign up at this link.
Listen to today's PWTorch Livecast discussing this issue and more with Jason Powell of ProWrestling.net. It's available here.
(Wade Keller has published the Pro Wrestling Torch Weekly Newsletter since 1987. He is a frequent guest analyst on the Steve Austin Show. He hosted the Ultimate Insiders DVD series in the 2000s. He hosted the Pro Wrestling Focus radio show in the early 1990s, all of which are available to VIP members to download or stream from the PWTorch VIP website archives. He has interviewed some of pro wrestling history's biggest names in their longest-ever insider style interviews including Hulk Hogan, The Rock, Steve Austin, Mick Foley, Kevin Nash, Scott Hall, Vince McMahon, Lou Thesz, Jerry Lawler, Jake Roberts, and dozens of others over the last 28 years covering pro wrestling. He can be heard every day on the VIP Keller Hotline analyzing the latest news, reviewing Raw, and answering VIP member questions. He also hosts the PWTorch Livecast every Tuesday and Thursday at www.PWTorchLivecast.com. He is a National Pro Wrestling Hall of Fame Journalist, Class of 2015.)